App Store Updates » Apps, Featured » Top 5 iPhone Apps for Educators
Today's teachers and college professors are no longer hidden behind a stack of ungraded papers. In today's high-tech schools, both the student and the educator are expected to be wired in 24/7. While this development can be frustrating when the system crashes, it also brings quite a few benefits.
One of the best perks is that teachers can now use their iPhones as a remote office and have a little fun without falling behind. If you'd like to get out and about without neglecting your responsibilities, take a look at these teacher-friendly apps:
1. Your Desktop Goes Mobile
Imagine being able to slip your reliable standby, the desktop computer, into your pocket and use it anywhere as easily as a mobile phone. With the VNC Viewer by RealVNC, it's almost possible! This useful little app installs right on your iPhone and allows full control of any Windows, Apple, or UNIX machine directly from your mobile phone.
With just a tap, touch, and drag, the VNC Viewer makes it possible for the iPhone user to run programs, modify files, or simply view the screen of any computer that is running a matching RealVNC program. By remotely controlling your student's desktop, you can quickly help students with their problem. It's just as good as looking over their shoulder and offering a friendly word of advice.
2. Classic Reading Material
What educational professional would be caught without one of the classics for light reading? Whether you teach literature or just love to read, the "Classics" iPhone app delivers fuel for your inner bookworm. This iPhone app even displays beautiful book covers and illustrations, and it features an auto-bookmarking feature that will keep your place better than a dog-eared page.
3. Let TED Tell You All about It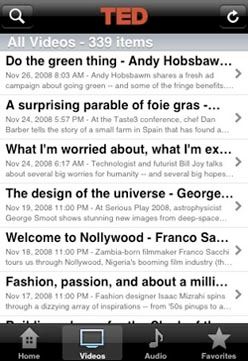 TED, or Technology, Education, and Design, keeps teachers and everyone else up-to-date on the latest innovations in a wide variety of subjects. From documentaries to the latest conferences, you'll always know what the world's best minds are concocting when you install TED on your iPhone.
4. Never Forget a Thing with Toodledo
This iPhone app with the memorable name is better than tying a string around your finger when it comes to remembering the details. Managing your to-do list and organizing your life couldn't be easier! To make sure that nothing ever gets lost, all your details are automatically backed up on the parent company's website. With this convenient feature, you can manage your lists from a variety of computers and never worry about losing a thing.
5. Lighten Your Load
Lose the bulky graphing calculator when you install an app that will perform all the same functions on your iPhone. The "graphing calculator" allows you to view each equation visually as well as find log, tan, sinh, cos, and every other function that a real calculator offers. If you have a particularly interesting result, you can even email a screenshot to yourself to study later!
When teachers get a hold of these useful iPhone apps, they'll definitely go to the head of the class!
Guest post by Jessy, a stay-at-home mom and geeky blogger for Mobile Phone Finder, the best free tool for mobile phone comparison. Besides other great features, it also allows you to compare Apple iPhone mobile phones.